Saturday, February 6, 2021. New York City – On Thursday, February 4, 2021, Joe Biden said 'America is back' in his first diplomatic speech. "We are a country that does big things," said Biden. He did not say anything about deporting and expelling undocumented immigrants, asylum seekers, but DEPORTATIONS ARE BACK.
Many Black and Latino people said Joe Biden and Kamala Harris were the lesser of two evils. They voted for Biden and Harris because they were supposedly the lesser of two evils, however the Biden and Harris administration have deported and expelled hundreds of Latino and Black undocumented immigrants.
Former president Barack Obama was the first Deporter In Chief. Will Joe Biden be the second Deporter In Chief?
Yesterday was immigration day for the Joe Biden and Kamala Harris administration, but today is deportation day for Biden and Harris. One day they talk about reversing Trump immigration policies, and the next day they deport and expel immigrants, asylum seekers.
History has shown us that Republicans and Democrats deport millions of undocumented immigrants. Barack Obama and Joe Biden deported more people than George Bush and Dick Cheney in their 8 years in the White House. Obama and Biden deported more people than Donald Trump and Mike Pence in their first four years.
The Green Party of the United States of America says on its website GP.org, "The U.S. needs a complete overhaul of its immigration laws. Our current situation has created extreme social injustice. Millions of people are living and working in the U.S. with no legal status, making them subject to extreme exploitation and abuse. Immigration raids are terrorizing the immigrant community. Families are being broken up. Employer abuses of undocumented workers are rampant.
The undocumented immigrants who are already residing and working in the United States, and their families, should be granted a legal status which includes the chance to become U.S. citizens."
Howie Hawkins, former presidential candidate of the Green Party says, "We will demand open borders where movement between nations is free, like it is in the European Union. International borders should be authentic fair-trade zones where people are free to travel across borders for work, shopping, or recreation. The status of undocumented immigrants should be legalized and provide a timely path to citizenship. Immigration and Customs Enforcement (ICE) and Customs and Border Protection (BPE) should be abolished and replaced with a new immigration agency with personnel committed to the open borders policy."
On Saturday, November 7, 2020, Haitians in Flatbush, Brooklyn, celebrated that Joe Biden and Kamala Harris were the winners of the General Election on Tuesday, November 3, 2020. Sadly, Joe Biden and Kamala Harris are deporting hundreds of Haitians to Haiti and expelling more Haitians to Mexico.
The inauguration of Joe Biden as the 46th president of the United States was on Wednesday, January 20, 2021. On the same day, Crown Heights Service Industry Workers and collective_nameless in Brooklyn had a rally and march. One of their demands was to abolish ICE. Activists said, "Abolishing ICE would lead to the release of entrapped undocumented people and the call to redistribute the ICE budget to housing these displaced people and offering mental health services to those endangered and mistreated by the organization. We must remember, most importantly, no one is illegal on stolen land."
On Tuesday, January 26, 2021, despite the snow, rain and low temperatures, members of the organization NICE gathered in Union Square Park in Manhattan. Different people spoke about their experience as essential workers. They demanded that Joe Biden and Kamala Harris support undocumented workers with stimulus checks and that an immigration reform be approved for ALL the 11 – 12 million undocumented immigrants in the country.
After the rally in Union Square, activists marched to Times Square. A minute of silence was held in Times Square for essential undocumented workers who died from the coronavirus in New York City. A group of dancers presented different Indigenous Aztec ceremonies to remember and honor undocumented people who died from COVID-19 in the city, and to demand the Biden and Harris' administration pass an immigration reform.
Deporting and expelling immigrants are back.
One of the women deported on Friday, January 29, 2021, was a witness to the 2019 El Paso, Texas massacre at a Walmart, which targeted Latinos and left 23 dead. The woman is identified only as Rosa to protect her identity.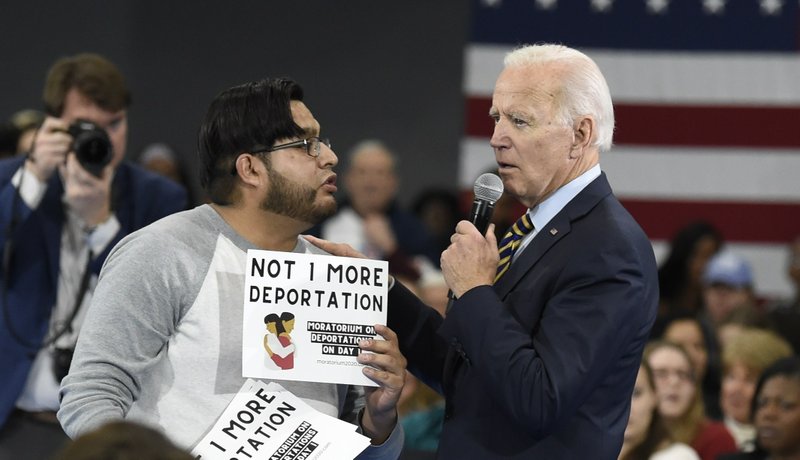 "Hundreds deported under Biden, including witness to massacre"
On Monday, February 1, 2021, the Associated Press (AP) reported that "U.S. Immigration and Customs Enforcement has deported immigrants to at least three countries: 15 people to Jamaica on Thursday and 269 people to Guatemala and Honduras on Friday. More deportation flights were scheduled Monday (February 1)."
AP added, "Some of the people put on the flights may have been expelled — which is a quicker process than deportation — under a public health order that former President Donald Trump invoked during the coronavirus pandemic and that Biden has kept in place. Both Biden and Vice President Kamala Harris vocally opposed the Trump administration's immigration priorities during the presidential campaign."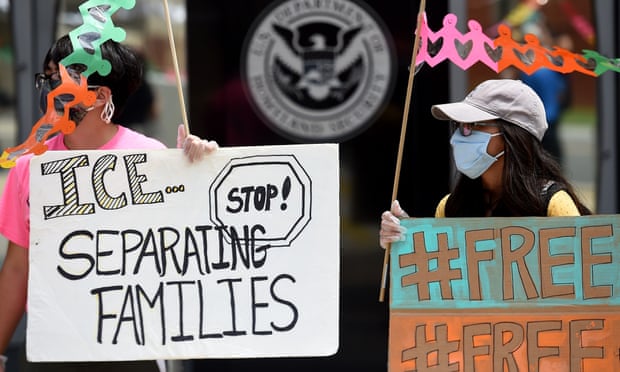 "New claims of migrant abuse as Ice defies Biden to continue deportations"
On Tuesday, February 2, 2021, The Guardian reported that, "A Trump-appointed judge in Texas blocked the Biden moratorium last week… However, the judge did not block guidelines laid down by the then acting secretary of homeland security, David Pekoske, which came into effect on Monday and stipulated that deportations should be limited to suspected terrorists, convicted felons deemed a "threat to public safety", and migrants who arrived after 1 November last year."
"Ice carried out a deportation flight to Haiti on Tuesday morning carrying people who fit none of those criteria. One of the deportees on that flight was Paul Pierrilus, a 40-year-old financial consultant from New York state, who had never been to Haiti and is not a Haitian citizen, according to the country's ambassador to Washington. The ambassador, Bocchit Edmond, has told activists he was taken by surprise by the deportation," The Guardian added.
"U.S. expels dozens of Haitian asylum seekers to Mexico"
On Wednesday, February 3, 2021, Reuters reported, "U.S. authorities returned dozens of Haitians to the Mexican border city of Ciudad Juarez from El Paso, Texas, on Wednesday, a move that appeared to contradict a policy agreement in place with Mexico brokered under the previous U.S. administration.
As the coronavirus pandemic spread in March, the United States partially closed its border to asylum seekers by invoking a public health law known as "Title 42." Mexico agreed to allow U.S. authorities to return Guatemalans, Hondurans, and Salvadorans who had previously transited through its territory.
"Up to 140 people are being returned to Baja California each day," said Esmeralda Siu, coordinator of the Pro-Migrant Defense Coalition, which represents a series of migrant shelters in the Mexican state. "From what we're seeing they are returning Venezuelans, Colombians, and Peruvians (to Mexico)," she added."
On Wednesday, February 3, 2021, BAJI (Black Alliance for Just Immigration) said on Twitter, "Last week, the Biden admin deported hundreds of Jamaicans + Haitians. Today, this week & month, they are set to deport close to 2000 Africans + Caribbeans. At 3pm today, a deportation flight takes off for Africa. Yesterday, one for Haiti; a few days before another for Jamaica."
On Wednesday, February 3, 2021, Alisha Williams said on Twitter, "Please don't fall in line to protect the administration. Focus on the atrocity of the system. Jargon about legal guidance and individual evil judges are intentional distractions. Focus on people being deported, the trauma of their journeys… not protecting the white house in '21."
On Wednesday, February 3, 2021, MPower Change said on Twitter, "CRUCIAL thread from @BAJItweet. Don't be fooled: Biden's violence against Black migrants is a continuation of post-9/11 ICE detention-deportation machine set up by Bush, supercharged by Obama + emboldened by Trump
NO to business as usual. End all deportations now #FreeThemAll NOW."
"9-year-old boy begs Biden administration to stop his father's deportation to Guatemala"
On Wednesday, February 3, 2021, NBC News published the article "9-year-old boy begs Biden administration to stop his father's deportation to Guatemala." Part of the article says, "At just 9 years old, Fernando Ochoa is fighting to stop his father's deportation over fears that he may be separated from him a third time even though President Joe Biden has ordered a 100-day moratorium on deportations and created a family reunification task force.
Biden went into his presidency carrying the weight of Trump's hard-line immigration policies, as well as criticism for the record number of deportations under former President Barack Obama, when he (Joe Biden) was vice president.
"If Ubaldo (Ochoa Lopez) is sent back to Guatemala, Fernando is left here without any parent, which is harmful enough in itself, but given his history of prior forceful separations by the government, it would be really harmful for him," (their attorney, Andani) Alcantara said, adding that he would be left "to fight his asylum case on his own."
The Texas immigrant rights advocacy group RAICES has been helping Fernando Ochoa with his asylum case while urging ICE to reunite him with his father, Erika Andiola, the organization's chief of advocacy, said during the news conference on Wednesday, February 3, 2021. You can sign a petition demanding ICE to stop de deportation of Ubaldo Ochoa Lopez here: https://www.raicestexas.org/2021/02/03/keep-ubaldos-family-together/
On Thursday, February 4, 2021, BAJI (Black Alliance for Just Immigration) said on Twitter, "another deportation flight left for Haiti today; and another, also to Haiti, is likely to depart tomorrow (Friday, February 5)."
"Biden team under fire for deportation uptick, backing Moise as Haiti tensions multiply"
On Friday, February 5, 2021, miamiherald.com reported that Haitians are being expelled to Mexico, "They arrived back in Mexico without shoes, identification documents or even children's diapers. Held by U.S. immigration officials in detention over several days, the group of over 100 Haitian asylum seekers were sent back across the border earlier this week carrying little more than the clothes on their backs, according to immigration advocates and a memo shared with the Miami Herald."
Other Haitians are being deported to Haiti. Activists say children and even infants have been aboard the removal flights. "These are people who are asylum seekers, most of them have not had any credible fear interviews. They are just being placed in airplanes and sent back," Marleine Bastien, a Haitian community activist told miamiherald.com.
Guerline Jozefa, the director of the San Diego-based Haitian Bridge Alliance, says that in addition to the deportations and the expulsion to Juárez, about two dozen Haitians were also expelled to Tijuana, Mexico, on Monday, February 1, 2021.
A Department of Homeland Security spokesperson said the expulsions of Haitians make up a small fraction of those taking place at the U.S.'s southern border with Mexico. "Approximately 90% of the individuals expelled in the last three weeks were from Mexico or Northern Triangle countries," the spokesperson said.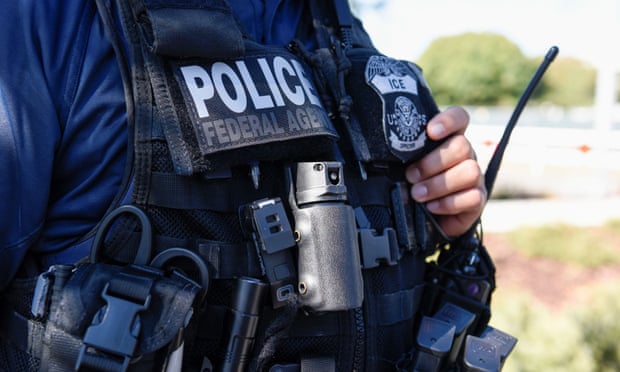 "Outcry as more than 20 babies and children deported by US to Haiti"
On Monday, February 8, 2021, The Guardian reported, "US Immigration and Customs Enforcement (Ice) deported at least 72 people to Haiti on Monday, including a two-month-old baby and 21 other children.
The children were deported to Haiti on Monday on two flights chartered by Ice from Laredo, Texas to the Haitian capital Port-au-Prince. The removals sent vulnerable infants back to Haiti as it is being roiled by major political unrest.
Human rights activists are dismayed by the deportations, which bear a close resemblance to the hardline course set by Donald Trump. "It is unconscionable for us as a country to continue with the same draconian, cruel policies that were pursued by the Trump administration," said Guerline Jozef, executive director of the immigration support group the Haitian Bridge Alliance.
She added: "I don't know what's going on between Ice and the Biden administration, but we know what needs to be done: the deportations must stop.""
Caravan of immigrants
In 2018, I traveled from New York City to Mexico to document the caravans of immigrants from Central America. Refugees from Honduras and El Salvador told me they were fleeing from their countries to save their lives.
Immigrants wanted to apply for asylum in the United States of America. Many immigrants from Central America and other countries are still in Mexico. Some people crossed the Mexico – US border, were arrested and deported to their countries of origin.
Barack Obama and Joe Biden built the cages for immigrants
Some Black people in New York City have told me they did not know Barack Obama and Joe Biden built the cages for immigrants and that Obama and Biden had children, men and women in cages. Click the link to see photos: https://dailycaller.com/2018/06/19/photos-obama-immigration-detention-facilities/
The U.S. Immigration and Customs Enforcement (ICE) is an agency under the control of the leader of the executive branch. In other words, Joe Biden, the president of the United States of America controls ICE. ICE has been subject of criticism and several controversies, including allegations of sexual abuse, torture and wrongful arrest of US citizens. Undocumented immigrants have accused ICE of torture.
Will democrats have rallies and marches to tell Biden and Harris to stop deporting and expelling undocumented immigrants/asylum seekers?
Share this post on social networks. Click here to become my Patreon. You can also "LIKE" my Facebook page, follow me on Twitter, follow me on Instagram, follow me on Pinterest, follow me on Flickr and subscribe to my Youtube channel. You can contact me directly by filling out this form.
Comparte este artículo en las redes sociales. Oprime aquí para ser mi Patreon. También puedes darle "me gusta" a mi página en Facebook, seguirme en Twitter, sigueme en Instagram, sigueme en Pinterest, sigueme en Flickr y subscríbete a mi canal de Youtube. Puedes ponerte en contacto conmigo directamente llenando esta forma.